If your product score is 35 points or more, you may qualify for our exclusive membership discounts and other benefits – directly from the manufacturer!! to find out if YOU qualify for discounts… visit>>www.CheckForDiscounts.com
Our products are all made in the USA, Eco-friendly, made fresh monthly and delivered directly from the manufacturer to your door.
Product Score Checklist for Discounts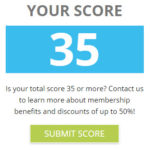 Membership discounts on everything from nutritional products, healthy products, personal care, makeup, coffee, house hold products for the bathroom, kitchen, laundry, garage, and pharmaceuticals.
Other discounts on services: long distance phone service, credit cards and internet service providers. Essential Oils are another one of our special product lines!
Membership Discounts and Benefits
The membership works much like other membership shopping places, like COSTCO for example, with a couple of important exceptions.
Membership is ONLY $19 annually
You don't have to buy in bulk – get only what you need monthly
Over 500 products to select from – these are product categories you are already shopping for – NO NEW MONEY