Snow Crab Legs, "Dry Pack" Scallops & Crab Meat
  Maurice's sells a 10 & up snow crab, dry pack scallops and crab meat, both pasteurized and fresh crab can be delivered twice a week.
Most markets, especially your supermarkets, carry what is an 8 and down crab leg. They mostly carry this as a way to offer cheaper prices as opposed to the heavier 10 and up clusters of snow crab.
Where's The Meat?
They may be a lesser price, however "where's the meat" becomes the talk at the table! So, I guess you have figured out that we only sell 10 & up snow crab legs…YES! Well, you are right! Now that you know the difference, you will be a wiser shopper of crab legs. You are welcome.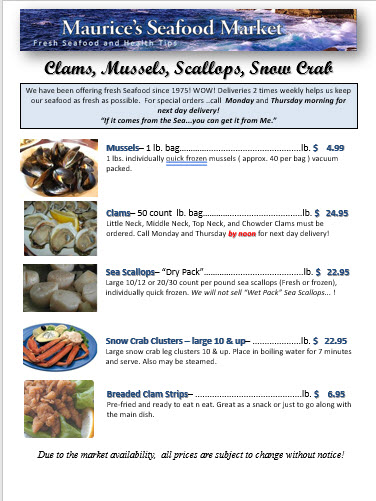 Buy ONLY "DRY Pack" Scallops
I have had some interesting conversations with customers who LOVE them but have had a problem preparing them. They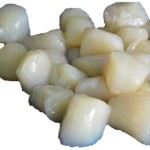 complain that they buy nothing but the best when they are shopping at their favorite supermarket, but can't seem to brown them and they end up with a lot of creamy water in the pan.
What they do not understand is that their "quality" scallops that they purchased from the supermarket had been processed and purged into a solution of sodium tripolyphosphate as a preservative. They will not brown and do not taste the same and the "natural" scallop that lacks the chemicals.
We used to buy scallops in a 30 lb cloth sack. They started soaking those sack in the solution sodium tripolyphosphate and once that sack was treated, the weight jumped to 40-42 lbs. and they were able to sell the scallops at a cheaper price.
Now we buy them in an 8 lb tub, and they ARE "Dry Pack", as I will not sell the "wet pack". We have choices, don't we?
Virginia Crab Meat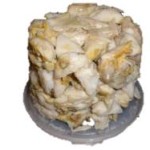 I love crab cakes and all the yummy stuff you do with crab. We have a truck from Hampton, Va. come every Tuesday and Friday morning, and they call me the morning before to place a next day delivery.
That's really good because I can get fresh crab meat every week. If that is your preference, just give me a jingle-jangle and I can get you fresh crab meat when you want it. Remember the delivery is Tuesday morning and Friday morning…so give me a heads-up when you may want it "FRESH".
Fora full description of the different grades of crab meat, take a look at Sam Rust Seafood's PDF description!
I hope this helps you…Love to hear from you.
Give us a shout when you are ready for some really good/fresh scallops, and other shellfish.