Frozen Fish
Maurice's have a broad line of frozen seafood, including items like alligator meat, smoked gator sausage, soft shell crab, squid, octopus, imitation crab meat, crawfish and crawfish meat, oysters on the half-shell, etc.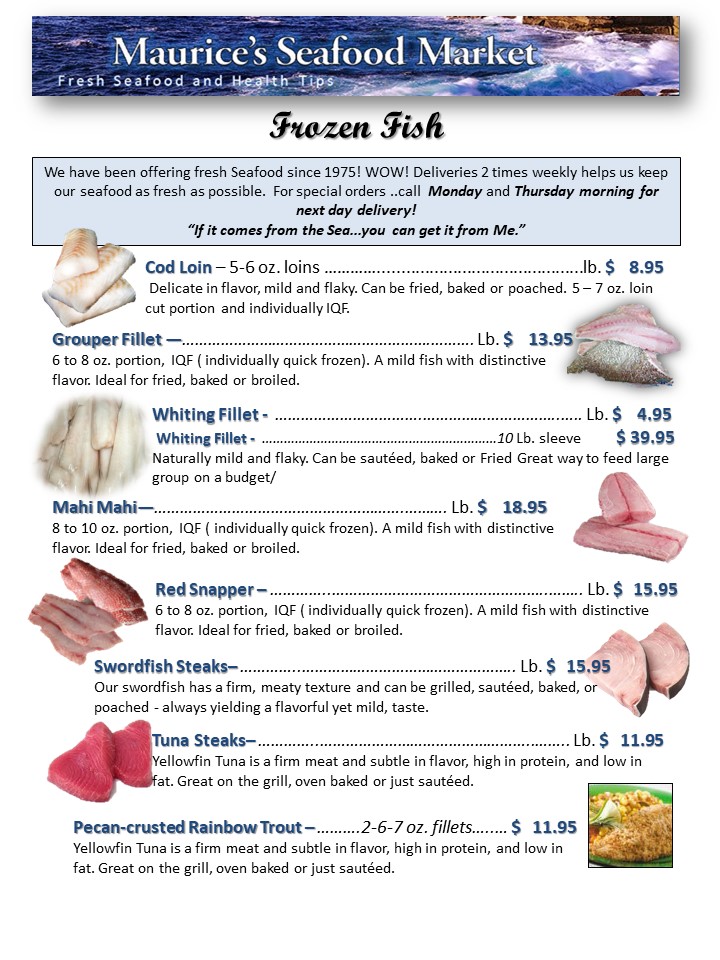 Smoked Fish – Duck Trap
Duck Trap has some of the best smoked seafood products that I have had. We carry their Smoked Rainbow Trout, Salmon and Mackerel. They also have smoked mussels, scallop, shrimp and whitefish.
How About Gator Meat
Alligator meat is  available in orders of five lbs. frozen and at a cost of $79.95. There is also a marinated 1 lb. frozen package of gator meat at a cost of $19.95. Be sure to call to confirm prices.
Fresh or Frozen Seafood
Whether you are looking for smoked salmon, crab legs, for frozen fish like whiting, mahi mahi, grouper, tuna, red snapper, or shell fish such as mussels,  or scallops, call ahead to check price and availability.
Need something special or just want to ask a questions just contact us.