Fresh Fish This Week – How About Salmon
Our Scottish Salmon comes from the Faroe Islands, and in my opinion and many of my customers…is the best! We also will have very shortly some salmon from Alaska, such as Coho Salmon, which is wild-caught, and usually average about 14-18 oz fillets.


 Farmed or Wild Caught Fish?
A study from the Institute of Medicine and a second study from the Harvard School of Public Health have similar conclusions. They both conclude that consuming one to two servings of fish a week could reduce the risk of heart attack by a third.
The Institute of Medicine has a little softer approach of the heart benefits associated with eating fish by saying there "may be" some reduction in the risk of heart attacks.
They are also not sure if the reduction is the risk of heat attacks are because fish lovers are not eating fatty meats like burgers and steak!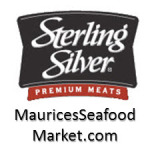 What's your preference? Beef or fish? I don't know about your situation, but for this old fella, fish and seafood works better than beef…however a steak once in a while sure taste good; especially if it is Sterling Silver® brand beef rib eye steak.