James River Oysters- orJR's
NOTE: Due to the storms we've had from Texas and up the Eastern shore, oysters will be a real problem for 2019. There will be higher than normal prices.  Unfortunately, you may encounter some really poor quality and short weight packs depending on where you choose to purchase them. NO YOUR SOURCE!!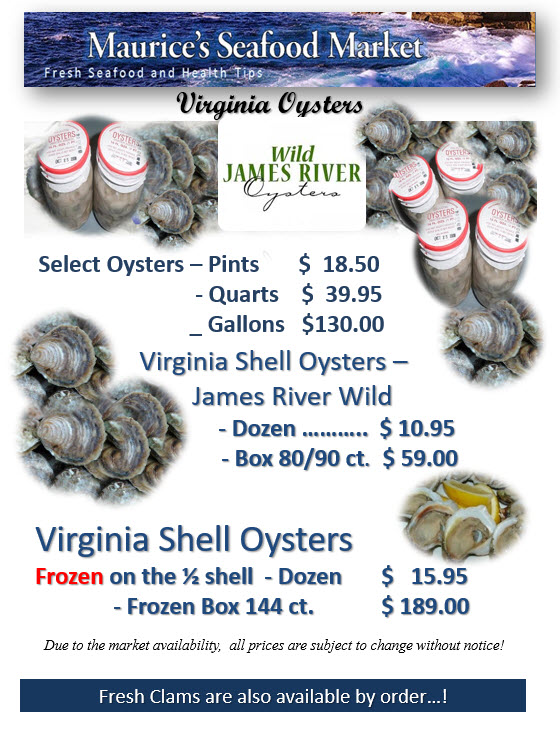 James River Oysters are what we have found to be one of the two best in this area. They are harvested from the Chesapeake Bay region off Maryland and the Virginia coasts. They are found in the waters of the James River nearby Norfork, Virginia.
In the times of the Colonies, NOTE this area thrived with a large number of oysters. The area's oyster is coming back although not to the levels noticed during the "Old Days".
Home Style Breaded Oysters
This year we will be selling a 2 lb (25/35 count) bag of breaded oysters. – $24.95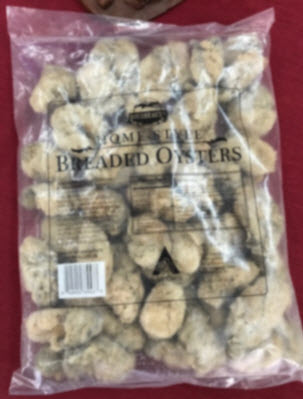 Oysters On The Grill
Oysters can be prepared on the grill, with a soaked burlap bag or towel placed on top which will steam the oyster open. This usually takes 5 or 7 minutes. Oysters that do not open should be discarded.
After the oyster has cooled a bit, use an oysters knife or paring knife (carefully) to cut the mussel that holds the oyster to the shell. It's ready for your favorite relish or cocktail sauce…or simply serve with saltine cracker…and a cold beer…if that's your preference.
Traditionally we have sold a lot of the medium size James River oysters..probably because of the price..! However, if you are looking for a premium larger size oyster, I would suggest the James River Oysters by the box – $69.95. or $10.95 dozen.
Oyster by the Gallon
We have sold a ton of oysters over the years. Many people will call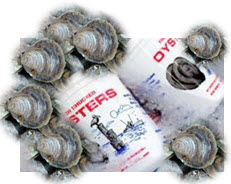 for gallon prices, which is OK, however in my opinion not necessarily the best way to purchase oysters.
Years ago when we started out in the business, we hand-dipped all of our oysters and sold pints, quarts and of course gallons. In those days a gallon would yield 4 quarts or 8 pints. Our oysters came packed 8 lbs of oyster meat in a gallon tub. They were quite a bit cheaper then as opposed to today.
Oysters Gallons Packed By Weight?
So, why do you see such a wide price difference from store to store? Simply because stores will purchase based on "price" and not quality so they can compete with other stores.
Packers are packing 5 and 6 pounds of oyster meat in the container before filling with oyster/water liquid. This allows them the opportunity to compete on price. Unfortunately, some consumers often have the "save a buck" mindset and are not informed about this.
What's the old saying…
"You get what you pay for"..right?
A 5 lb. pack container (gallon) really yields about 2-1/2 quarts of actual oysters and would have been cheaper to buy 2 Qts. and 1 Pt. or 3 quarts to be safe and have the quantity you need. Have you ever popped the lid on a gallon of oysters and found 2 inches of liquid before you get to the oysters?
And …
then realizing that the oysters are smaller than what you see in the glass jars? Approximately 3 quarts are equivalent to a 5-6 lb pack (gallon), and you can see the oysters in that glass jar.
Know who you are dealing with and where the products are coming from. Nothing beats experience, and we've been hearing for over 40 plus years. Oh my gosh! Well, I do eat well!
East Coast – Chesapeake Bay
We use east coast oysters, usually from the James River. Seaside Salts are a great choice for a saltier taste. Aquaculture is saving the oyster population, providing a living for the water-men and is to a sustainable future for the Chesapeake Bay.
The video is an interesting look behind the scenes look at both the problem and the solution for the oyster industry and the Chesapeake Bay. Enjoy…
Here is a recipe to serve two Mussel hungry folks!
In a large stockpot, melt 2 tablespoons of butter, add garlic and heat for around 30 seconds. Stir for a minute, after seasoning with some red pepper flakes and some lemon zest.
Add 2 cups of white wine and season with black pepper, then bring to a boil. Add 2 pounds of cleaned and de-bearded mussels,  cover right away and boil for 1 minute.
Stir the mussels, cover and let boil for 2 minutes. The shell will begin to open, and then add 1 cup of fresh chopped parsley, cover and cook for around 1-3 minutes until all shells are open.
Great to serve with grilled sliced french bread and lemon wedges
I hope you have found this helpful!