Sterling Silver Premium Beef
---

​Starting out with prime beef before all the changes started in the 80's, having Sterling Silver Premium Meats to offer our customers is a real treat, and brings back memories.
​
Consisting of only Prime and top tier Choice grain-fed beef cattle, Sterling Silver® Premium Beef has consistently providing beef that both rich in marbling and aged to perfection.
​

Our premium beef is carefully selected from the North American Great Plains, hand-selected for the best quality, and that translates into cuts of beef that have exceptional flavor, tenderness and juiciness.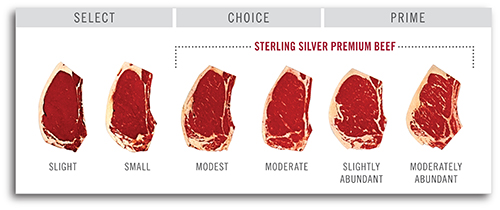 Sterling Silver Premium Meat™ –  Beef
Having started out 38 plus years ago, breaking our prime beef hind-quarters and front-quarters down and being known in those days as "the place to buy meats", we experienced big-time change when meats turned boxed ready to slice and package.
The processing was prominent in the texture and the flavor of the meats, and I elected to get out of the fresh meats business. Today, we have discovered a premium line of beef from Sterling Silver, and are having a very good experience tasting the flavor and tenderness we once had.