Holiday Planner – 2020
Watch for update prices for the Holidays for 2020!
Holiday Planner for 2020 includes information on the meal plans we have been doing for 45 years. Such as Turkey dinners, mashed potatoes. gravy. cooked country ham, oysters, etc. I can't believe how the time keeps flying by and we will be ready to do it again!!
We have been preparing the Holiday Dinners for over 45 years! But it is a blast and a very busy time for us. If you want to pre-book your holiday needs, feel free to do so. Get a jump in and out of the way!
If you have an occasion that the menu ideas here are a fit for you, we can prepare dinners, turkey, and ham any time if the need arises.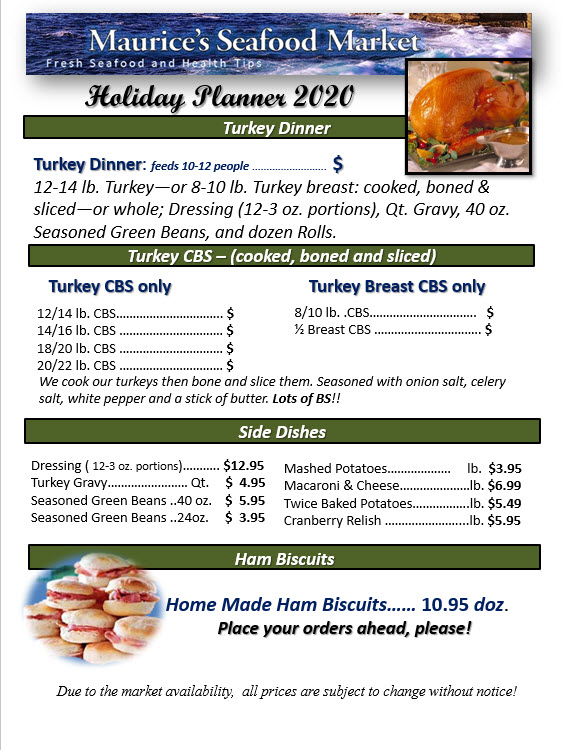 Cooked  Turkey Dinners
Turkey has become a specialty for us. Amazingly moist and tender, they are boned and sliced on a deli tray ready for the table. No need to heat. Just serve room temperature along with with the hot gravy, hot mashed potatoes, and warm dressing..what else would you want?
Our cooked turkey dinners come with some basics, green beans seasoned with country ham, our world-famous turkey dressing and gravy, and rolls. We can build the order to fit whatever your needs are. If you have 10-12 people, for instance, a 12/14 lb turkey cooked, boned and sliced would be plenty.
If you are having 12-14 people and want plenty of left-over of turkey, and ham, then a 16/18 lb turkey and three lbs of country ham or 4-5 lbs of western ham would be enough.
Prices fluctuate during the year more than the holidays, so do call ahead so we can have enough time to inventory whatever is needed.
So let your taste buds go wild and let us do the kitchen stuff so you can enjoy the family.
Sugar Cured Country Ham
Ham is a specialty our ours. I've been cooking sugar-cured country hams forever it seems. I remember when I started and cooked it on the stovetop, changed the water several times and then to the oven. What a mess that was.
I was cooking rotisserie chicken for a while and things changed, and I stopped.  But before donating the rotisserie to the church I thought about how country ham would do on a rotisserie. Now, to get a country ham on a skewer, you first have to remove the bone. so I boned four hams, skewered them, basted with brown sugar mustard as they turned to the rotisserie.
WOW! That really was absolutely amazingly good.
However, as good as the ham was, it made a terrible mess.
So I started boning the hams first, soaking overnight and BAKING the hams…WOW got the same results and have been doing it the same ever since. YUM! Wanna try some good country ham?  Come on by and have a piece, you'll get the picture!